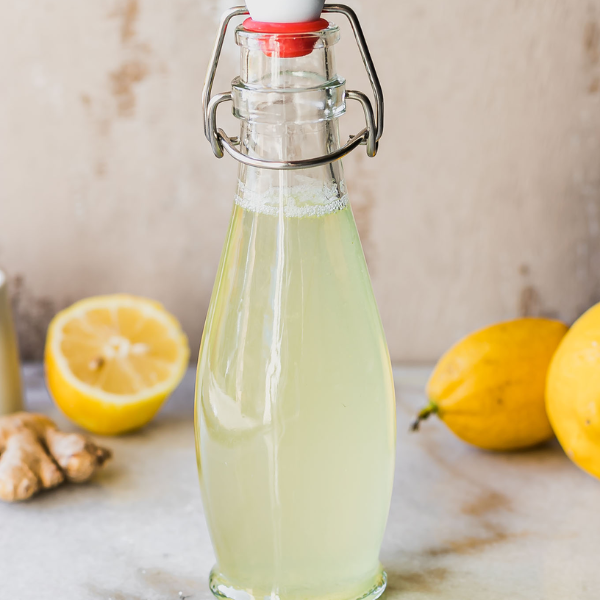 Lemon Ginger Syrup
Delicious Lemon Ginger Syrup – Perfect for Sweetening and Spicing Up Drinks!
Are you looking for a delicious and sugar free way to sweeten and spice up your drinks? Look no further than Lemon Ginger Syrup! This simple syrup base is just sugar free sugar and water, but you can customize it to your own personal taste by adding fresh lemon juice and ginger. Not only is it delicious and sugar free, but it is also incredibly easy to make. So if you are looking to add a unique twist to your beverages, try making Lemon Ginger Syrup!
What is Simple Syrup?
Simple Syrup is a sugar free syrup, usually made from equal parts of sugar free sugar and water. It's commonly used to sweeten and flavour beverages like iced tea, cocktails, and more. For this recipe, we'll be making a lemon ginger simple syrup which adds an extra layer of sweetness and spice! This sugar free lemon ginger syrup can also be used in baking, glazing, and even as a topping for desserts. By adding fresh lemon juice and ginger, the flavour is enhanced, and the syrup is much more versatile. With this recipe, you'll be able to make your own delicious homemade simple syrup with ease!
Ingredient
The key ingredient for making a delicious sugar free lemon ginger syrup is sugar free simple syrup. This is a combination of sugar free sugar and water, which gives the syrup its base flavour. To make the lemon ginger syrup more flavorful, you can add fresh lemon juice and ginger. For an added hint of minty sweetness, chopped mint leaves can be included as well. All of these ingredients create a perfectly balanced, tasty syrup that can be used to enhance the flavour of drinks or dishes.
How to Make Lemon Ginger Simple Syrup
Making lemon ginger simple syrup is incredibly easy and doesn't require many ingredients. All you need to make a sugar free lemon ginger syrup is some sugar free syrup, fresh lemon juice, and freshly grated ginger.
To begin, combine equal parts of the sugar free syrup and water in a small saucepan over medium heat. Reduce the heat to low until the mixture starts to simmer, and stir until all of the sugar has dissolved.
Next, add the freshly grated ginger and the lemon juice and let it simmer for about five minutes. Be sure to stir often so that the syrup doesn't burn or stick to the pan.
Once the syrup has thickened and has reached Once it reaches your preferred consistency, turn off the heat and let it cool before transferring it to an airtight container.
Your homemade lemon ginger simple syrup is now ready to use! You can enjoy it in a variety of drinks, such as lemonade, iced tea, or even a gin and tonic.
Uses for Lemon Ginger Simple Syrup
Sugar free lemon ginger syrup can be used in a variety of ways! Whether you want to sweeten up your favourite beverages or add an extra hint of spice, this easy-to-make syrup is sure to make a delicious addition to your recipes.
You can use this sugar free lemon ginger syrup as a base for cocktails, mocktails, and even non-alcoholic smoothies. Try adding some to your favourite drink for an extra zing of flavour! It pairs especially well with drinks that are on the tart side, such as lemonade or limeade.
This simple syrup is also a great way to sweeten up desserts and other treats. Drizzle it over pancakes or waffles, or mix it into a cake batter for a unique twist on the classic dessert. You can even make your own flavoured ice cream or popsicles with it.
This sugar free lemon ginger syrup is a flexible component that can be utilized in both savoury and sweet dishes. Make use of it as a marinade for fish or meats, or combine it with fresh herbs and garlic to make a delicious glaze for roasted vegetables. The possibilities are endless!