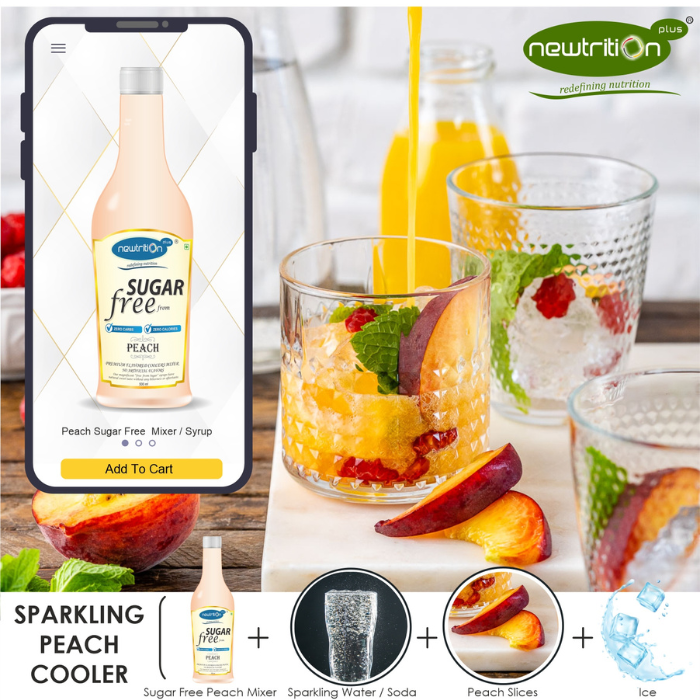 Peach Mocktail recipe
A refreshing glass of any sweet Peach Drink is hard to turn down during summer but it's packed with loads of Sugar which is particularly not healthy. One single sugary peach drink contains sugar equivalent to that which you must consume over an entire day.
Switch to Sugar Free Syrup by Newtrition Plus that is 100% Sugar Free, Zero Calories & Zero Carbs. Moreover it's ideal for Vegan Free, Gluten Free, Diabetic or a Low Carb Diet and loved by Dieters as a preferred choice of mixer.
Easy & quick, this Peach Drink Recipe is a fantastic summer beverage with an Ultra Low Carb. Use Newtrition Plus's "Peach Mocktail Syrup" which is an absolutely Sugar Free Syrup that makes a perfectly sweet Peach Drink without adding any Sugar, Calories or Carbs in your diet. No need to check on number of drinks you consume every day, no need to count your calories & carbs. Enjoy this Sugar Free Sparkling Peach Cooler for N number of times a day. Whether it's a hot Sunny Afternoon or a Breezy Evening, let it be a Party or a small Get-together, this Mocktail is must have for every occasion.
What Goes in Sparkling Peach Cooler with this Sugar Free Syrup?
It's an absolutely easy recipe that shall not take more than two minutes to make if you have all the below ingredients ready in your kitchen
1. Newtrition Plus's Peach Mocktail Syrup – Sugar Free (Buy Now).
2. Sparkling Water (or Soda)
3. Peach Slices
4. Peach Juice (Optional)
5. Loads of Ice
Finding Peach fruit except for the summer season was a tough task before 10 years but with cold storage facilities you can find Peach fruit all-round the year in your nearest supermarket.
Caution: Avoid Peach Juice if you are on a Keto Diet or you are Highly Diabetic as fruit contains natural present sugar. Please consult your Doctor/Dietician before adding Peach Juice in this recipe).
Directions for making Sparkling Peach Cooler Recipe
Take lots of ice in a glass.
Fill glass with 75 ml of Sparkling Water or Soda. Make sure that Sparkling Water or Soda is chilled as this will enhance the taste of the Peach Drink by manifold.
Add 25 ml of Sugar Free Peach Mocktail Syrup. You can buy this syrup from Amazon.in or NewtritionPlus.com.
Add 25 ml Peach Fruit juice (optional) to your mixture.
FAQ's
Is this Peach Sugar Free Syrup / Mixer Sweet?
Yes, sweetness is almost equivalent to the ones you find in other Sugar Syrups. If you tend to drink less sweeter than reduce the amount of Sugar Free Syrup added into recipe by 10-15%.
Why isn't it thick like other Mocktail Syrups?
All Mocktails Syrups available in market are made with Sugar from where a syrup gets its thickness. Moreover manufacturers add thickening agents like CMC, Xantham Gum, Pectin to artificially thicken it. We do not add any Sugar nor any thickening agents in our Sugar Free Syrup thus keeping its consistency like that of water.
Does it contain harmful Sweeteners?
We at Newtrition Plus have a policy that we do not add those ingredients in our product which we do not consume ourselves. Thus we have made sure to stay away from all kind of harmful sweeteners like Asparatme (E951), Acesulfame K or also referred to as Acesulfame Potassium (E950), Saccharin (E954), etc.
How much sugar does 25 ml of Peach Fruit Juice Contain?
25 ml Peach fruit juice contains 10 calories, 2.5 net carbs & 2.5 grams sugar. Moreover Glycemic Index of Peach is 28 & relatively comes in a Low GI Food category. While Glycemic Load of Peach in only 4 making it a Low Glycemic load fruit.
How is this drink Sugar Free if we add Peach Slices to the recipe?
Adding slice of Peach fruit to the recipe infuses an amazing Peach flavour to the drink however only a negligible amount of sugar in Peach Fruit does not get mixed into drink by simply infusing it.